Kejari Timika has the best prosecutor in Papua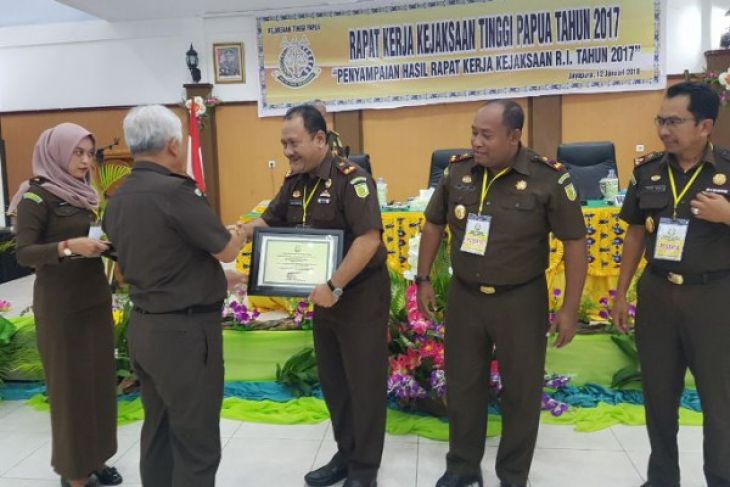 Timika (Antaranews Papua) - State Attorney Timika was awarded the best-performing state attorney general office in Papua and West Papua by 2017.
Timika's Head of State Attorney Alex Sumarna in Timika said Sunday that the assessment as the best-performing state attorney was given by the Papua High Prosecutor's Office at the Attorney General's Office in Jayapura on Friday (12/1).
"Coronation of Timika Kejari as the best-performing state prosecutor in Papua and West Papua based on the assessment of the leadership of the Papua High Prosecutor Office for a period of one year throughout 2017," Alex said.
The award was given by the Chief of the Papua High Prosecutor Fahrudin Siregar and received by Kajari Timika Alex Sumarna witnessed by all prosecutorial leaders in Papua and West Papua.
He explained that there are a number of criteria assessed by the Papua Kejati to determine whether a state prosecutor's office is performing well or not.
The assessment covers the areas of coaching and managerial staff, improvement of office facilities and infrastructure, performance in the field of Intelligence, general criminal, special criminal, civil and administrative state (Datun).
In addition, the achievements of the Escort, Government Security and Central and Regional Development Team (TP4D) in each state prosecutor's office in assisting the Central Government and local government oversee development in their respective regions.
In relation to TP4D activities in Kejari Mimika, Sumarna assessed that in 2017 its personnel is optimal in guarding and securing various activities, especially physical projects undertaken by Central Government and Mimika Regency.
Alex emphasized that the award received by Timika Timika is the result of working together with all staff of Prosecutor and Staff of Kejika Timika.
"It is thanks to the support of prosecutors and employees in the Mimika Kejari environment, thanks to the support of all related parties, hopefully this achievement can be maintained and if necessary improved in the coming years," Alex hopes.
The second and third rank of the state prosecutor's office with the best performing title in Papua is occupied by Fakfak District Attorney and Jayapura District Attorney.