Papua Police to Hold a Meeting to Achieve Peaceful Elections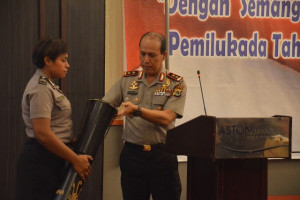 Jayapura - The Papua Regional Police held a leadership meeting followed by Kapolres and Head of Operations and Serse to realize the implementation of 2018 election is safe and peaceful.
Rapim, opened by Police Chief of Police Inspector General Boy Rafli on Tuesday (19/12) was marked by the beating of tifa, which lasted until Wednesday (20/12).
Police Chief of Police Inspector General Boy Rafli in his speech said to realize the 2018 election is safe and peaceful then since early must be made various readiness including cipta conditions.
Cipta conditions need to be implemented immediately so that people can understand that in the implementation of peaceful elections need the participation of all levels of society.
"Without the participation of all levels of society, peaceful and peaceful elections are difficult to achieve," said Inspector General Boy Rafli.
Kapolda Papua also hopes that the police chief and his staff also maintain and establish communication with religious leaders and community leaders so that the existence of a good raising can prevent the various actions that can trigger friction antarassa friction.
"Let us together keep the implementation of the 2018 election can be done safely and peacefully," said Police General Boy Rafli while adding that the police chief also had to map the areas that are considered vulnerable.
He said through the creation of conditions and work optimally then the area that previously considered prone to be not vulnerable.
Meanwhile, Karo Operational Papua Police Kombes KH Simanjuntak said the rapim was conducted to evaluate the performance of the police during 2017 and in general kamtibmas disruption decreased 2.6 percent.
Despite the decline, the quality has increased due to the disruption of armed criminal groups and electoral conflicts.
In the election conflict caused 12 people to be victims, namely five in Intan Jaya Regency and seven residents in Kab.Puncak Jaya.
The 2018 election in Papua will be held in seven districts and the election of governors and deputy governors.
The seven districts that will conduct the elections are Central Mamberamo Regency, Puncak, Paniai, Biak Numfor, Jayawijaya, Mimika and Deiyai ​​District.