It's 90 Percent, Looks Like The Bridge Icon Jayapura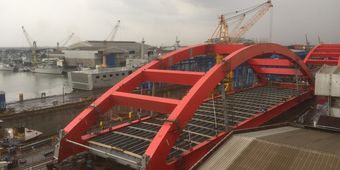 SURABAYA, KompasProperti - Holtekamp Bridge built by the government in Jayapura City, will become the new icon of the capital of Papua Province.

Has a total length of 732 meters, bridge whose investment value reaches Rp 1.7 trillion is funded by the State Budget (APBN), Regional Budget (APBD) of Papua Province, and APBD II of Jayapura City.

KompasProperti visited PT PAL Indonesia, which was cooperated with Ministry of Public Works and People's Housing (PUPR) to work on two main spans that became center span Holtekamp Bridge.

Project Manager Holtekamp Bridge Rizki Dianugrah said, it takes five spans to connect the bridge.

In addition to the two who worked on PT PAL, the other three have now been completed and already installed.
Each of the three has a length of 50 meters.

"Later the total of the connected is 400 meters," Rizki told the media crew in Surabaya on Wednesday (29/11/2017).

While the two who worked on PT PAL, known to have a length of 110 meters each, with a height of 20 meters, and weight 2,000 tons.

Currently, one of the main spans has finished its work and is ready to be transported to barges on Thursday (30/11/2017).

Then, in the near future the main span will be sent to Jayapura.

"For the second, the current job progress is already 95 percent targeted to finish on December 4," he said.

For the main construction funded with APBN worth Rp 858 billion, the current amount of absorbed budget has reached 83.9 percent or about Rp 719.8 billion.

Rizki said, one of the obstacles faced in this construction process is weather.
Moreover, this time has entered the rainy season where rainfall is high enough.

This is certainly one of the obstacles in the delivery process of the main span.
It says it takes about 30 days for a single delivery of the main span.

"The second (main) span will be sent two weeks later, if it is already installed, now it is 90 percent (construction), then only 5 percent left," he said.

To note, the existence of Holtekamp Bridge is strategic enough, as a solution to overcome the density of urban areas, settlements and economic activities within the city of Jayapura.

The reason, this bridge cut the distance to 17 kilometers between the two locations.

Thus, the previous travel time takes 2.5 hours from Jayapura City to Muara Tami and Skouw State Border Cross (PLBN), now 60 minutes.

The project was worked on by a consortium contractor of PT Pembangunan Perumahan (Persero) Tbk, PT Hutama Karya (Persero) Tbk, and PT Nindya Karya.

Author: Dani Prabowo
Editor: Hilda B Alexander