District government of Jayapura formally opened the Tanah Merah Maritime Festival
The annual tourism and cultural event held by Jayapura District Government, the Tanah Merah Maritime Festival (FBTM) 2017 is officially opened today, Thursday 23 November.
The event was held in the area of Tablanusu Beach, Kampung Entiyebi, Depapre District, Jayapura District from today until Saturday, November 25, 2017.
FBTM 2017 opened directly by Plt Bupati Jayapura Yerry F. According to Yerry, FBTM event is an event to strengthen the existence of indigenous people in Jayapura District.
"In addition, of course this is also a tourism promotion event, we want to introduce that in Jayapura District has a beautiful place as a marine tourism," said Yerry gave a speech in front of guests and visitors at FBTM.
The opening of the Tanah Merah Maritime Festival (FBTM) 2017
The opening of the event was marked by a typical Papuan drum beating followed by a colossal performance of Tari Anak Laut and a cultural exhibition. This marine colossal dance attraction is a traditional Jayapura dance, which in the past was shown to welcome the evangelists to Jayapura.
According to Yerry, this event is expected to increase tourist visits both foreign and domestic. A number of interesting agendas have been prepared such as traditional culinary fairs, cultural art exhibitions, underwater photo exhibitions, indigenous attractions, beach races and artistic performances from coastal villages.

On the third day there will be a celebration of thanksgiving worship The gospel enters Tanah Merah for 106 years, then traditional music exhibitions and dances, Papuan Trio Band performances and at the closing ceremony will be enlivened by a parade of flute drum and lemon dance from evening to tonight.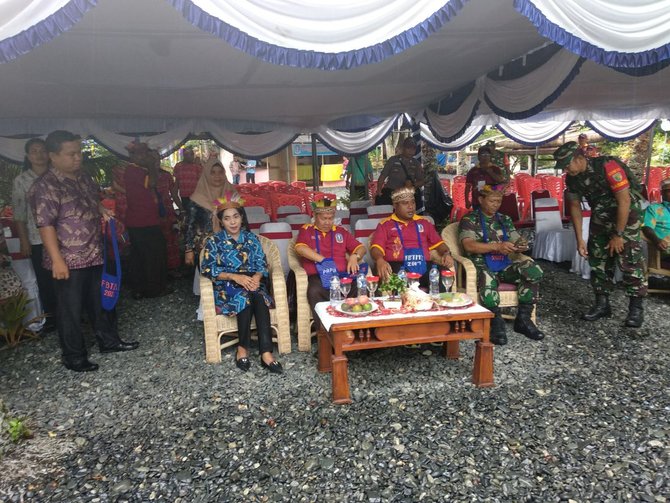 The opening of the Tanah Merah Maritime Festival (FBTM) 2017
In this event will also be held a beach race, which consists of fishing races, diving, and also diving competitions. Because in November this waves are very fast (high) then this event more interesting.
The implementation of FBTM in 2017 is also the third time. According Yerry, from year to year the number of visitors FBTM more lively. Thus, its contribution is enormous in increasing the number of foreign tourists.
Jayapura does have many beautiful and unique beaches and one of them beach with the edge does not contain sand like a beach generally, but gravel. Beach with the edge of this pebble is the only one in the world.
Meanwhile, Head of Jayapura Tourism Office, Kris K. Tokoro said, preparation for this activity has been done since some time ago.
Including socialization to the villages located in the Tanah Merah bay area. The villages will later hold attractions at the festival.